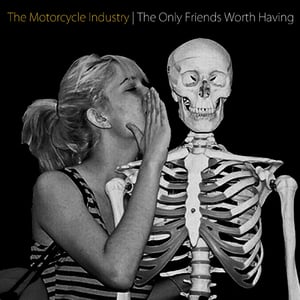 $

4.00 - On Sale
*25% goes to charity until the end of 2016*
http://www.thetrevorproject.org/
https://www.edf.org/
"It's not everyday that you'd expect to find your new favorite band sitting on your doorstep. From the day I received The Motorcycle Industry's full-length, in late 2008, the Brooklyn three piece set the bar pretty high, until now. 'The Only Friends Worth Having' EP is four tracks of pure ear candy."
-Alter The Press (5/5)
I am so excited to release this EP. The Motorcycle Industry pushed the envelope in terms of incorporating catchiness with originality. They seamlessly fuse together various genres into something they can call their own without being gimmicky. There is something everybody can enjoy in the 4 song EP from New York City's, The Motorcycle Industry.
Released February 19th, 2010.
The Motorcycle Industry - The Only Friends Worth Having 7 inch EP
Each record comes with a digital download code!
AR-002
Pressing Info:
1st Pressing
Purple/100 (Bundle exclusive)
Orange/200
Green/200

Track Listing:
Side A.
1. Paul Newman And A Ride Home... (3:33)
2. French For Tigers (3:51)
Side B.
3. Electric Education (3:17)
4. Possessed (3:24)